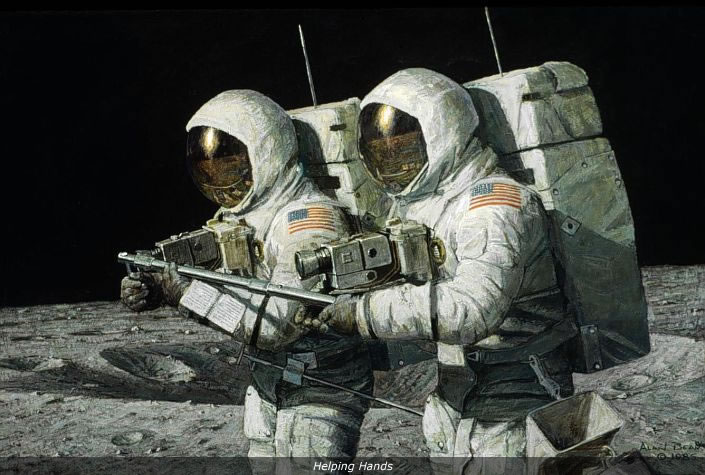 Helping Hands (1985)

I remembered during our landing at the Ocean of Storms on Apollo 12 Pete Conrad and I had hundreds of specific tasks to perform, some individually, some with each other and some with mission control on Earth. We had switches to throw, voice transmissions to make and receive, computers to operate, instruments to monitor and buttons to push. It was like a concert where each musician has to play the right note at the appointed time. Sometimes it wasn't easy because of the incredible view. I found when I looked out the window and saw just where we were and what we were doing, I would become distracted and start to lose a beat or two. I had to keep telling myself to look inside and tend to business.

This painting is a favorite remembrance of Pete and me working together. I had just finished pounding a hollow core tube a foot or so down into the lunar soil with my hammer. When I pulled the core tube back out, it contained a continuous sample of surface and subsurface soil.

I have painted Pete holding the tool extension handle with the full core tube attached while I unscrew the sharp edged bit and replace it with a cap. I then removed the core tube from the tool extension and put it in the sample bag on my left hip.

When we finished the photography and voice reports associated with documenting this sample, I noticed I still had the bit in my hand so I stuck it in my pocket. I carried it back to Earth and it rests on the mantel in my studio today.